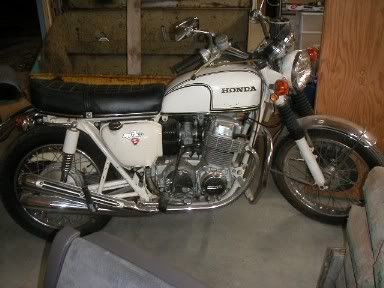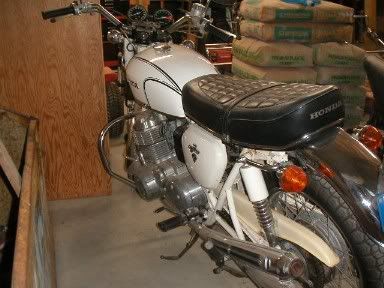 ---
I have a 71 CB 750 all white from Honda, I bought it from a LAPD mechanic (retired) he told me that Honda sold 9 white bikes in 71 in the USA for $1 each and LAPD bought 2 , he bought mine in 72, the bikes came stock and were modified by the police depts. mine has most of the mods. off, only the Harley handle bars and radio mount remain, the white fenders were replaced with chrome ones because they were too ugly. The frame is all white. I know Honda police have a "P" in the vin and mine does not, also the Honda police has a different spedo. I would like to sell mine ( so I can get a Vette) but would like to know it's value. I have been in contact with a collector and restorer and he sent me a few letters with some info, they are below ( bet he is a member on this forum) also here is a link to the photos.
Some have said it's just a painted white bike but I do not think so. Thanks.
Cal
http://s125.photobucket.com/albums/p74/calorchard/750/
Hello.
I am a collector of exceptionally rare Honda's. i am
currently finishing a restoration on a 1969 CB450P
used by the Arizona police force. There were very few of these
made or used.
I am interested in your bike, and have a few
questions. First off, do you have any idea what police
force this bike was sold to, or intended for sale to.
To my knowledge California never used the Hondas.
Second, The seat and speedo. While these are
definitely correct for a '71, the police models used a
different type usually for seat and speedo. Does the
bar in front have accomodation for the lights? It
should have a single bolt mount on the let top. Lastly
the frame. The frame on these models was reinforced in
the rear. I was in Japan recently and saw a partially
restored '69 poice special at a specialty shop in
Nagoya, and got a good look at the unique features. I
am very interested in any history you have on the
bike, it helps to locate parts in the future.
I thank you for your time, and look forward to
hearing from you.
Sincerely,
-C
Thank you for the information. The story sounds
plausable enough. The numbers however appear to be
standard CB750 frame and engine #'s. Would it be
possible to remove the seat and send me a photo of the
rear part of the frame? And a photo of the front crash
bar?
I would greatly appreciate it. If this is not a real
police special, it is important that you know that
also.
Thanks again for your time.
Sincerely,
-C
Thank you for the pictures.
The thing is this bike may have been outfitted for a
police dept. There are a couple of non-stock features
on the frame, hard to really see, but definitely
noticeable. This was not a true 'Police Special' in
that they had separate vin, and eng. #'s, that were
designated CB750P-1000000, and CB750PE-1000000,
respectively. Non were ever used here, so it is quite
possible this was a customized, stock '71, sold as a
come-on to various U.S. police dept.'s. The front
crash bar is not the one that would haver been on it
for police use. The subtle thing to note is on the
frame behind it are two mounts (painted white) with 2
bolt holes in each. The rear part of the frame should
have had more re-inforcement, and more mounting points
for panier, and additional crash bar mounts.
I am going by a '69 Japanese police special, which I
knew to be authentic, and which I examined in person
very closely. So again, this may well be a very unique
customized version, made from a regular, but modified
at the factory, production model from that year. The
'69-'70 CB750P police specials sold well elsewhere in
the world, so maybe they thought the Americans would
take to it also.
In any case, it appears you do have a unique bike,
although you definitely want to know more of the
history. Finding out what type of siren, light combo
is of utmost importance in terms of restoration,
which, if this is what you have been told it is, is
the only way to go with something like this.
I will do a little research, and hopefully get back
to you, though not till after the 10th.
Thank you again.
-C




From 1971 partsbook.

Engine and frame serial number for CB 750 Police models are numbered in the same sequence for CB 750 K1.

AUSTRALIA
CB750 P-U 1068267 and higher

USA
CB 750 P-A1 1087436 and higher


Frame part #,s
50100-300-750A....................White

50100-300-790B....................Black


Frame #s were followed by another part # in brackets, I take this to mean that the frame was similar to the other except the crashbar brakets welded to front.

Crashbars shown in the book, looked like they mounted on the brackets the OP showed on his frame.

First paragraph I am reading it as there is no difference in serial #, but that is merely my opinion (keep in mind I owned one, registered and insured & rode it, and like to think if the serial # had a P I would remember).

The US Aus numers mean that they started at those #s.

Now I found only the regular seat in the partslist, I had thought a solo was offered, but must have been thinking of the 450 or 350. Those bikes police parts are shown in the partslists I have for them.